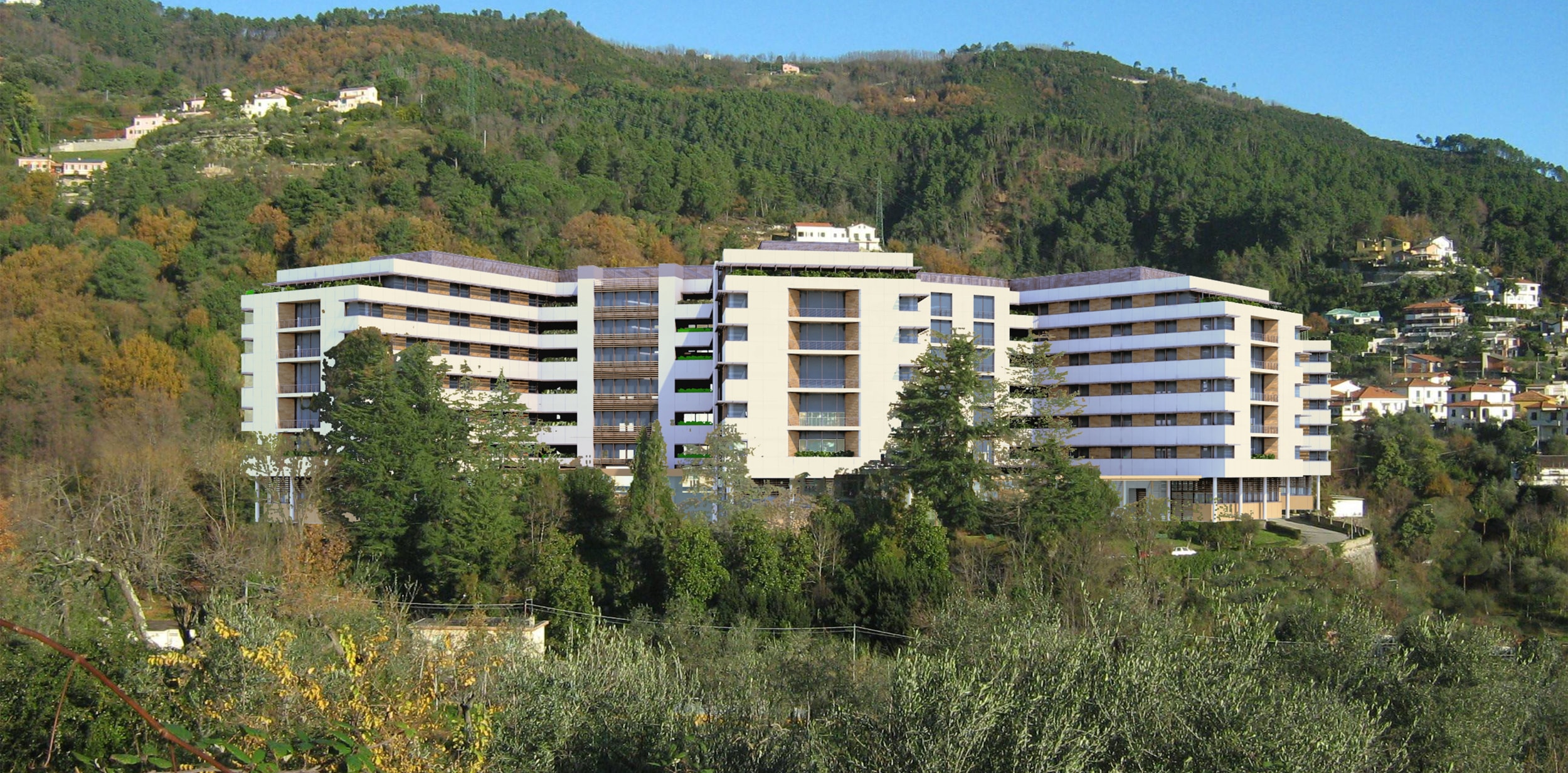 In October 2010, we were appointed to design a major general hospital for the Liguria region, to be located on a panoramic site amongst olive groves above the town of La Spezia. The project will replace the existing local Felettino hospital with a much larger general hospital which, when complete, will also combine the services of La Spezia's San Gabriele Hospital. This will allow its city centre site to be redeveloped through reuse of the existing listed buildings.
The hospital will serve the west of the Liguria and north Tuscany, with 520 beds for inpatients and approximately 900 outpatient visitors per day. The design makes the most of the south-facing site looking towards the sea by adopting a fan shaped geometry which opens up to the views.
The eight-storey building is planned on the 'intensity of care' principle, which is the basis of modern hospital planning in Italy. This has directly informed the design in a number of ways, which encompasses: a reduction in the provision of beds, which is compensated by the provision of generous day care facilities, wards designed as continuous spaces for future flexibility, with mostly two beds per room, and ten per cent of one bed per room. Additional activities, such as the emergency services, a congress centre and restaurant, are also included in the scheme.
The plan arrangement creates legible circulation throughout. A large atrium forms a covered public 'piazza' with café and shops from which visitors gain access to the upper floors via lift cores and waiting areas on the exterior of the building, thereby allowing a consistent sense of orientation - something often lacking in modern hospitals. Flanking the central atrium are two large planted courtyards which further enhance the connection between built form and the landscape.
The building is organised horizontally with the first two floors accommodating the most publicly accessible functions, the next three floors provide housing, the treatment departments and laboratories, whilst with the wards are located on the top three floors accommodating the wards. It will include a 200 KWp photovoltaic system alongside heatpumps and an advanced heat recovery system.
The project also includes a freestanding Radiotherapy Building which has already been completed and 823 parking spaces carefully concealed in a series of landscaped terraces. We are working with Italian engineering company Politecnica and healthcare specialist Dott. Gemmi on the project; construction onsite began in October 2016.
Details
Location

La Spezia, Italy

Value

€175 million

Size

65,000 m²

Client

Infrastrutture Liguria

Year

2020
Project team