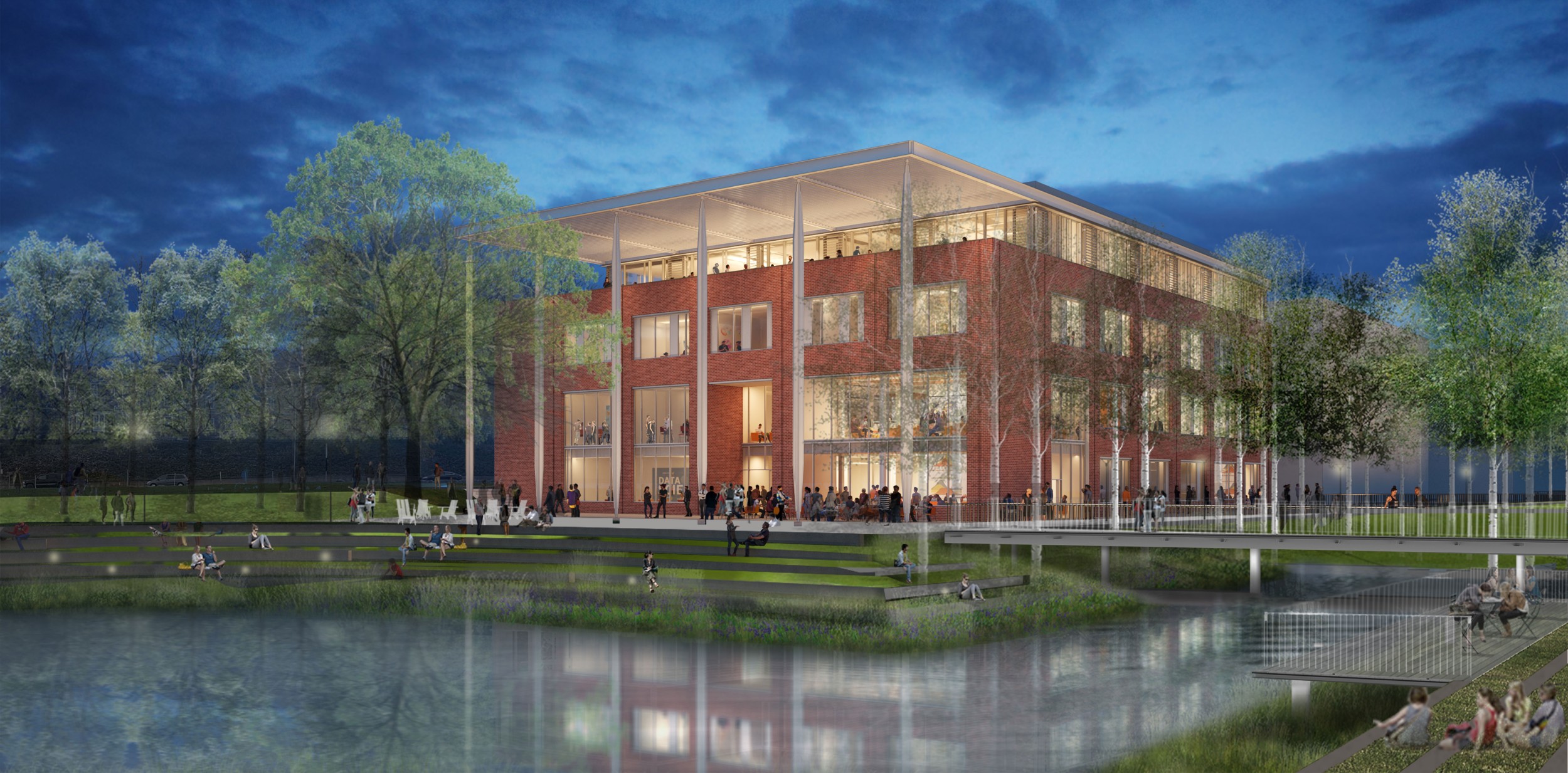 "The space really allows the life and the activity of the School of Data Science to be on full display from the exterior. We hope the transparency and the activity of this hub and its prominent location will make this a beacon for the district." Architect for the University, Alice Raucher
Founded in 1819 by Thomas Jefferson, the University of Virginia is one of the most prominent and respected educational institutes in the US. The new School of Data Science, established in 2019, will be UVA's twelfth school, and the first academic building to be constructed as part of its new phased masterplan. Located on the most prominent corner of the site, the project will be emblematic of both the School's and the University's ambition, linking its historic grounds, a UNESCO World Heritage Site, to an exciting new chapter in UVA's development.
Our design approach for this exciting and expanding field of study was to support the mission of the school by providing high levels of visual and physical connectivity between students, academics, visitors and industrial partners. Reflecting UVA's overarching ethos of strong organisational principles based around the notion of community, the building will provide a framework for the new School to flourish.
A four-story, 61,000 square-foot facility will provide accommodation for teaching, research, admin and special events. A variety of spaces are design to support a move away from traditional lecture based teaching towards integrated participation and 'active learning', and include four large classrooms, two small seminar rooms and collaborative, meeting and amenity space. Accommodation is integrated between floors and organized around a bright and open central stair, providing a visual and physical connection, and facilitating the cross-fertilisation of ideas.
The Hub, a double-height gathering space will host large lectures or presentations and provide an informal space for eating, socialising or working. Facing out over a landscaped pond back to central Grounds, it promotes the open and connected message of the School and encourages engagement with the wider community. The Corporate Commons provides space for the school's corporate partners to work with students and faculty, supporting closer collaborative links between academia and industry.
A steel-framed portico the height of the building signifies the presence of the School and of the University's wider ambitions for the masterplan. It provides shelter for an upper-level external terrace, which offers views over the landscaped pond back to Central grounds. Working closely with the University, we developed an architectural approach that was rooted in the heritage of UVA's brickwork facades, whilst expressing the dynamism of the study of Data Science.
Hopkins Architects are working with VMDO as Executive Architect, Arup as Engineers, NV5 as AV/IT Consultants, Dumont Janks as Landscape Architect, and Faithful+Gould as Cost Consultants on this project.
Details
Location

Charlottesville, Virginia, USA

Size

61,000 sq ft

Client

University of Virginia

Year

2023
Project team